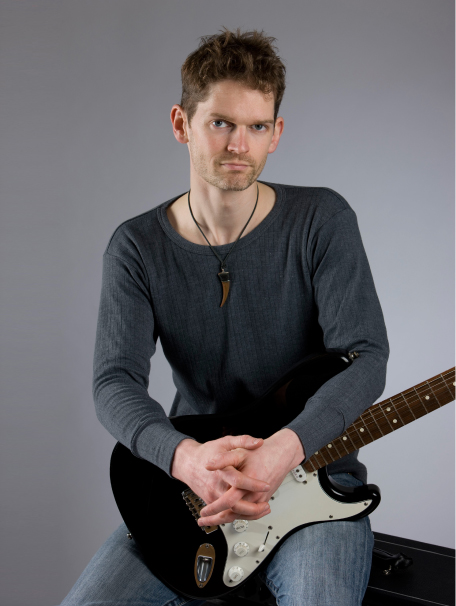 Guitar Lessons Hanwell
Stuart Bahn teaches guitar lessons at his home just 1.5 miles from Hanwell. He has been teaching guitar lessons professionally in the Hanwell area for 20 years and has taught many hundreds of aspiring guitarists.
Stuart teaches pop, rock, blues, jazz and classical guitar from beginner level to advanced. He provides extensive teaching material as lessons progress, allowing you to build up a large body of work to practice from. Take a look at the lesson content pages to see what you can learn. If you'd like to book a guitar lesson, or if you have a question for Stuart, send a message:
Getting to your Guitar Lessons from Hanwell
Getting to your guitar lesson from Hanwell is easy. There are good routes by car, by walking, or by bus.
From Hanwell to your Guitar Lessons – by Car
Travelling from Hanwell to your guitar lessons is just a few minute's drive, via Boston Manor Road, Northfield Avenue or Uxbridge Road. If using GPS, please use W5 4EP as your destination postcode.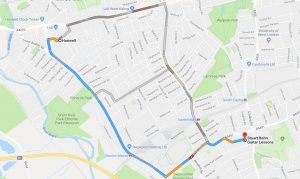 Parking
When you arrive for your guitar lesson, there will usually be plenty of parking on Chandos Avenue. The only parking restriction is between 3-4pm on weekdays. During this time you can park on South Road instead – see map below.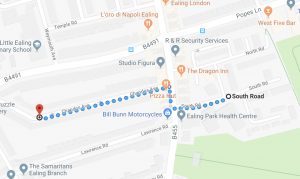 From Hanwell to your Guitar Lessons – by Bus
To get to your guitar lessons from Hanwell by bustle most direction option is the E3 bus.
E3
You can catch the E3 from Cherington Road, Hanwell. You'll need to get off at stop N on South Ealing Road. From there it's just a short walk to your guitar lesson.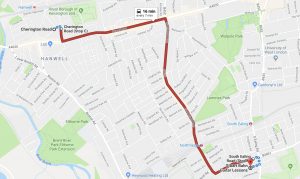 195
Alternatively you can take the 195 from Hanwell to your guitar lesson. The 195 goes down Boston Manor Road. You'll need to get off just after Boston Manor tube station. From there it's about a 10-minute walk to Chandos Avenue.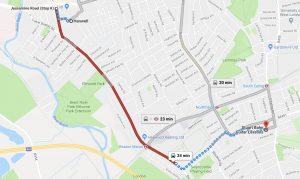 Booking a Guitar Lesson
To book a guitar lesson with Stuart, or to ask a question about taking lessons, send an email using the button below: